Example of a follow-up letter to PSAs after a few days of signing up through e-mail/teammail.
Good Day
I am here to encourage you. Thank you for your progress thus far here at SFI. I noticed that you have not completed or doing your "to do list" which is an important aspect to achieve some of your Versa Points monthly, along with completing the various task tabs.
If you can, I really recommend you try to do some daily or all. The launch pad too.
I also recommend daily advertising or promoting your SFI affiliate link with your identification number and your TripleClicks link and a product from TripleClicks. This provides you exposure to get your Genealogy Team active.
Please don't hesitate to contact me if I can be of assistance.
Regards
ShirleyAnn
https://sfiaffiliatecenter-sp.blogspot.com/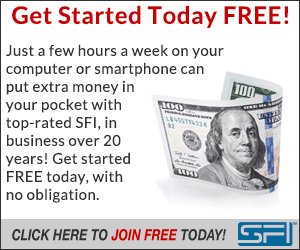 What Others Are Saying About SFI
"I recommend any affiliate interested in becoming a member of the SFI Affiliate Program to get started today. There is a great deal of good affiliates already established within the SFI Affiliate Program awaiting to assist you in your endeavors and goals."
Click here to see what others are saying:
WANT TO BECOME AN AFFILIATE TOO,
PLEASE CLICK THE LINK HERE TO SIGN UP: